Run a 10k.
Eat 10,000 calories of ONE type of food.
Run another 10k.
One day. One food. Two choices: yes, or no.
If you are like most of the world, you've probably never thought about this absurd challenge, or maybe even heard of it. If you are like me, now that you've heard about it, you are starting to imagine that second 6 mile run and the ensuing sideache. Or, you are thinking about a single type of food that you could possibly complete this challenge with. I heard about this challenge while on a long run with members of the Adams State cross country team. Apparently, the secret to 50 DII national championship teams isn't consistent training and a deep culture of success established by great coaches, talented athletes, and 7,500 feet of elevation. It is trying to eat a jar of peanut butter, 4 Little Ceaser's Pizzas, or 50 Reese's Cups (all attempts I heard about) on a 12 mile double day.
Anyway, it has become an inside joke with my wife and I whenever we are at a gas station and see some sort of pre-packaged super unhealthy snack ("Honey, you would only need to eat 5 of these to do the 10k challenge!!!") or when we are buying our bi-monthly restocking of corn tortillas ("Honey, you would have to eat 200 of these to do the 10k challenge….let's do it…tomorrow.")
You have less than a month before it's a "New Year New YOU." Here are 5 ways to live large before you become a prisoner to your New Year's Resolutions.
The liquid strategy

: 10k challenge with Starbucks white chocolate mocha – 16 oz = 500 calories
– You would need to have 20 drinks of this, the highest calorie drink option at Starbucks. Pro's = the caffeine would make you energized for the run portion. Also, it would be tasty, I think. Also, you aren't really "eating," so maybe it would be easier? Another pro – just think of it as being you doing all of the coffee drinking you would usually do in 1 week…just in one day…
Cons = Lots of going to the bathroom….risk of hating chocolate forever….risk of hating Starbucks forever — maybe put that back up in the "pros" section.
2. The "if I'm going to do this challenge, I'm going to be as miserable as I can" method: Gas Station foods – "whhhhhhat is INNNNN this?"
Slim jims – 66 2/3 of these will get the job done. That means, you are going to give yourself about 1,666% of your daily sodium intake. Don't worry though, you will be getting a lot of protein, which is obviously good in absolutely any amount, especially if you are working out a lot (660 grams ought to do the trick for protein synthesis.). Just imagine the heartburn and run induced burps as you tackle that second 10k. I literally don't think even my old dog, Jake, could complete the challenge this way, and he loved a good deer gut pile.

BEEF & CHEESE STICKS

Flavor: Pepperoni

Serving Size: 1 Package (42g)

Servings Per Container: 1

| Amount Per Serving | % Daily Value* |
| --- | --- |
| Calories: 150 | |
| Calories from Fat: 110 | |
| Total Fat: 12g | 18% |
| Saturated Fat: 6g | 30% |
| Trans Fat: 0g | |
| Polyunsaturated Fat: 1g | |
| Monounsaturated Fat : 4g | |
| Cholesterol: 50mg | 17% |
| Sodium: 590mg | 25% |
| Potassium: 95mg | 3% |
| Total Carbohydrates: 2g | 1% |
| Dietary Fiber: <1g | 2% |
| Sugars: 0g | |
| Protein: 10g | |

| | |
| --- | --- |
| Vitamin A: | 6% |
| Vitamin C: | 0% |
| Calcium: | 15% |
| Iron: | 2% |

Krispy Kreme
At first, I was disappointed to see that a regular Krispy Kreme glazed doughnut "only" packs 190 calories. Now, those things melt in your mouth, so putting away 55 of them wouldn't be too bad. But, we could just turn to…. The krispy kreme chocolate cookie dough donut!!!!!!
Made with Chips Ahoy cookie pieces, which is basically a stick of butter and bits of recycled melted plastic, these suckers come in at 400 calories per doughnut. That means, you could eat 5 for breakfast, 5 for lunch, 5 for dinner, 5 for an evening snack, and 5 after you've brushed your teeth, and walllah…there you go. Each donut gives you 4% of your calcium and 7% of your daily iron. Runners tend to struggle in both of those minerals. Get this: the 25 donuts you eat will give you exactly 100% of your calcium needs. Who needs a multivitamin now?! NO ONE!
This snack deserves an entire paragraph for itself. I couldn't limit my analysis to just one snack, so I've given you 3 different "Little Debbie" options, complete with three different routes to a local hospital, thanks to Google maps.
Option 1:
Fudge Brownies WITH WALNUTS
according to this website
the Fudge brownies mentioned are just the second worst brownie in terms of health made by Little Debbie. The website warns you to "not be fooled" by the presence of walnuts. Apparently, that doesn't make these healthy? Wow….fake news if I ever saw it…
Here is a greater analysis:
Serving: 1 Brownie
Nutrition: 280 calories, 12 g fat (3.5 g saturated), 150 mg sodium, 40 g carbs, 1 g fiber, 21 g sugar, 3 g protein
Not far behind the cosmic brownie is the original fudge brownie with English walnuts. This one gets its bad reputation in the health realm because of its extensive list of artificial ingredients that wreck havoc in your body if consumed in mass quantities over time.
So, 35 brownies to 10k calories. That seems pretty easy to do actually. However, that will only give you 35 grams of fiber, which is literally…..(Chris Trageor pause from Parks and Recreation)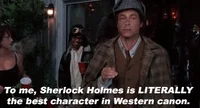 the amount of fiber I have at every meal I eat.
Option 2: Red Velvet cakes:
Serving: 2 Cakes
Nutrition: 330 calories, 16 g fat (9 g saturated), 130 mg sodium, 45 g carbs, 0 g fiber, 35 g sugar, 2 g protein
Look at what the article says and pay special attention to the last sentence!
As fancy as red velvet sounds, this treat is the farthest thing from classy. With both hydrogenated and partially hydrogenated soybean oils and 9 grams of saturated fat, this cake is a one-way ticket to heart disease if eaten frequently over a span of time. Why? For starters, partially hydrogenated oil is a trans fat and fully hydrogenated oil is a saturated fat; so, the fact this product alone has both of those is a major indicator that it is not good for your body. Ditch this red velvet treat and whip up a hearty stack of red velvet pancakes made from beetroot! (It's number 10 on the list of 13 Ways to Cook with Beet Greens and Beetroot!)
If you are considering the above red velvet cake, are you really someone who is going to go, "Ya know, I think a red velvet pancake made from beetroot will taste just as good!"
Option 3:
Serving: 1 Cake
Nutrition: 330 calories, 17 g fat (9 g saturated), 250 mg sodium, 40 g carbs, 2 g fiber, 29 g sugar, 5 g protein
I just love the descriptions from this site….
Also, just one cake gets you 330 calories – you are well on your way to 10k. Plus, the ratio of protein to carbs is a little closer to what you want post workout….again….eating for performance here.
We get it—you see the acronym P.B. and you're instantly hooked. As a fellow peanut butter addict, I can attest to an intense devotion to this irresistible nut butter. However, beware of Little Debbie's P.B. Richie because the addition of peanut butter stacks this little cake with extra calories and saturated fat. If you have a hankering for peanut butter, opt for a bowl of oatmeal with one tablespoon of the good stuff swirled into it (check out the next option below!!) And if you can relate to the woes of a peanut butter addiction, see if any of the 17 Signs You are Obsessed with Peanut Butterresonate with you!
3. The "Healthy" method – at least you will pass the food you ate in a "natural" way:
Peanut Butter/Dark Chocolate Oatmeal –
Nature Valley Bar – you just can't stop eating them anyway
This is the way I honestly would like to try the challenge. Mostly because I have this thing with granola bars where I literally….can't stop eating them. They are soooooo good. I sort of believe that I will either accomplish the challenge, or by failing, finally break myself of this "can't stop eating them" habit. It's a win-win situation. And if you are Michael Scott and are considering the financial benefit to Nature Valley, it is actually a win-win-win situation.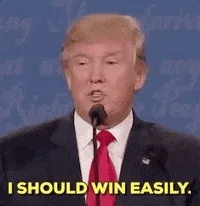 Nature Valley – 190 calories per 2 bars = 52 wrappers or 104 bars
Oatmeal – the greatest food ever invented. If you made plain oatmeal, you would need to cook alot. 1 cup = 300 calories. So 10,000 is going to be 33 cups. Just to put that in perspective…the picture below is 2 cups with a ton of water, cooked nice and thick overnight: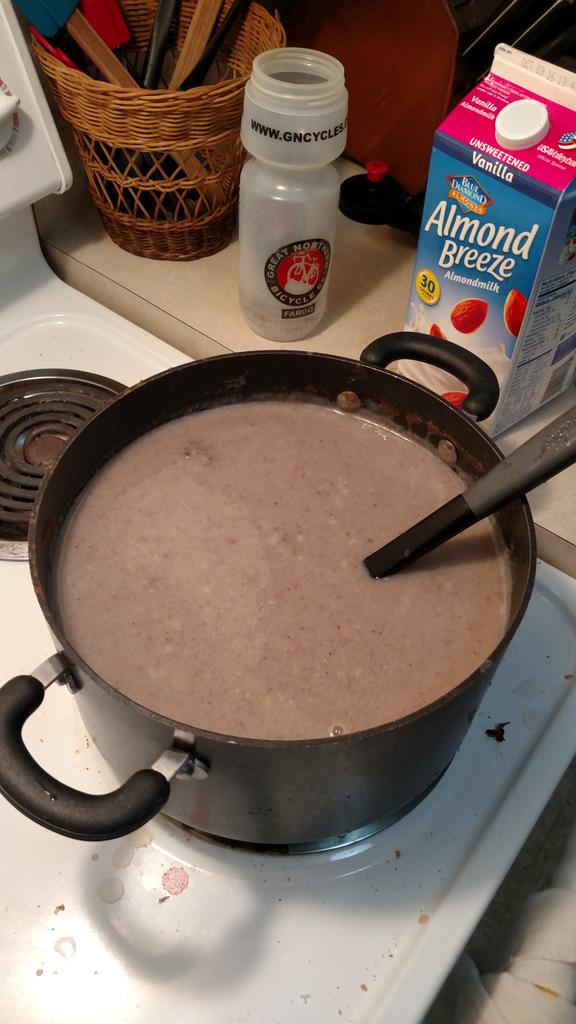 So….let's just say you are going to have to go thicker to make this work.
4. The KFC/Mickie D's method – the most bang for your buck – chicken or Big Macs – good until the second run, right?
Big Macs to accomplish challenge: 17
Matt Stonie ate 25 of these in one sitting wowza…….if you watch the video, he finishes number 17 about after 12 minutes of eating!!! He could easily do the 10k challenge!
KFC – Nashville hot chicken breast = 770 calories per breast – amount for 10k challenge = 13…
family size potato salad side = 1200 calories – amount needed = 8 and 1/3.
5. The hardcore Parkour method – straight up dill pickles – 5 calories a pickle…use for endurance bikers only
Now, this might be the most crazy idea ever. You WILL at some point choke on pickle juice, so it would be terrifying for the entire day. You would have to eat so many pickles (2,000), you would have to eat 1.3 pickles every minute for the entire 24 hours. Assuming you will only be awake for 15 hours, and running for 2-3 of those hours, that leaves you at about 2.6 pickles every minute during waking hours….is it even possible?
Pros: you might actually run a calorie deficit trying to do the challenge this way. The metabolic cost of eating a pickle, and eating them, for the entire day, is probably over 5 calories per pickle. Plus, throw in about 1500 calories burned from the run….wow….
Sodium replacement for all of that sweat from running. However, this might be a little overkill. If you are going to do the challenge this way, I recommend doing it in the desert.
Cons: cost – imagine checking out at the grocery store with 2,000 pickles…Sam's Club here we come.
Well, there you have it. Next blog post, we will talk about how to train for your fastest 10k ever in 2019.