Elijah De La Cerda
I said, "Mom, what if I don't win?" She just looked at me, shrugged, and said "As long as you try your hardest it's ok."
Ever heard a coach, scout, or sports writer say, "You'll want to keep your eyes on this kid," before? It seems like we hear those words uttered more often than we see them verified and consequently justified, unfortunately. Often, the athletes which are attributed such a statement are the ones which flame out, lose interest, get hurt, or simply disappear. They don't always materialize enough in terms of results to warrant their original prophecies, that's for sure.
When your dad is Adams State legend and 2000 Olympic Trials Marathon runner-up Peter De La Cerda, expectations are inherently high. You don't have to be a running nerd and 24/7 scout like Letsrun.com's Jon Gault to predict that the offspring of Peter and Rhonda (ASU Hall of Fame, 14x All-American, 1992 Region Champ, 3x NCAA national team champion member) will be athletes you should "keep your eyes on."
If anyone has ever said something like that about Elijah De La Cerda, we should let you know that he is well on his way to validating any such claims. He was a member of the most dominant Alamosa High School cross country team ever, one which produced an epic three-peat state title run between 2014-2016, including victories over the once 4A school, arch rivals, and Colorado Milesplit "sponsored" The Classical Academy. He is now in his second year at Adams State, running for his parents' alma mater and not staying content with remaining in any type of shadow. I have told people greatness seems to rub off on individuals who enroll at ASU, something which appears to be true in Elijah's case as well. He has assimilated into the running culture of excellence (although, considering he is a lifelong Alamosa resident, he was pretty much baptized into it at birth …it probably isn't as much an assimilation as it is a realization or maturation), continued to increased his fitness gradually, and set lofty goals for himself.
Every social media post showing an improved pace on the Friday morning tempos or Sunday long runs is evidence that Elijah isn't just "Isaiah's brother" any longer. He is starting to mature, and his improvements are indicating for the astute observer that he is almost ready to mix it up with the big boys in DII.
Having run alongside the efficient runner for three years (his 9th-11th grade seasons), I saw Elijah go from a gifted freshmen to a bonafide team leader. The second year of the 3-peat, Elijah was only an alternate on our state squad, something that was visibly disappointing for him. I could see then, having witnessed late bloomers, knowing Peter was a late bloomer, and having been a moderately late bloomer myself, that Elijah, if he was patient, kept working, and kept believing in himself (and enjoying the sport in the process), would be great. Not could be.
Would be.
The step he took his sophomore year was huge – all of the sudden, he not only cracked the varsity squad for good (since our top 9 all returned, this was no small feat. An upperclassmen had to be squeezed out), he was in our scoring 5.
Then, in 2016, we lost the senior class which had been carrying our team (including Elijah's older brother, Isaiah), and it was up to Elijah to keep us relevant. His last two seasons were phenomenal. Even though I was in some of the best marathon shape of my life at the time, I got butterflies in my stomach wondering if I'd be able to even pace Elijah in the Wednesday mile repeats at Cole Park. The next summer, before leaving to Maine, I remember hopping in on a tempo run out on the country roads, and Elijah and I hung together until the last 400, when he took off and I couldn't respond. Recently, I saw a post on Facebook indicating a tempo workout completed roughly at 5:05 pace for 7 miles (on gravel, at 7500 feet!). He is at the next level, and I can't wait to see where it takes him.
So, don't worry, we'll keep "keeping our eyes" on this kid.
In the meantime, we caught up with him to give you, our loyal readers and running fans, an inside look at just what makes him tick – enjoy!
You came from a running family and have been running competitively for a long time. Do you remember your first race? How old were you and how fast did you go?
I've seen pictures of me doing little fun run races that the town used to put on when I was about 5 years old, but I don't remember any of them. The first race I have any memory of was in the second grade. Back then they had a day called the " Boyd fun run," it was named after the school, and the whole school had the day off from class but you had to participate in a one mile run. The race had been going on for probably at that time 30+ years so it was kind of a big deal. The school was 2nd and 3rd grade but you only had to race the kids in your grade. I remember being so nervous for that race. I don't think, even to this day, ever being that nervous for a race. I know it seems silly to be that nervous but that was my first serious race. Right before we got on the starting line I remember seeing my mom and going to talk to her. I think she could sense how nervous I was but like any good coach she kept my emotions in check. She reassured me that I was going to do fine and just before I left her I asked her one more question. I said, "Mom what if I don't win?" She just looked at me, shrugged and said " As long as if you try your hardest it's ok." When she said that I remember feeling a lot lighter. It felt like 50 pounds was just lifted from my shoulder. Then I just went out there ran my hardest and won the race by a lot. I think my time was around 6:40.
Being in a family with parents who were very successful and raised you up in the sport – what was that like?
Growing up with both parents who ran and were very successful was definitely fun. It wasn't, however, all about running all the time. Everyone would always think we were just the running family but we played lots of other sports too. Growing up we probably played just as much baseball and wrestling than we did running. They weren't strict with training either. I mean we would run and do intervals but it wasn't anything extreme like some kids do nowadays. They really wanted to set us up to be successful later in our career rather than when we were 12 and not get any better. It was also nice because we had coaches that knew what they were doing. My dad coached me basically my whole life which I think really helped me.
Did you ever feel pressure?
Maybe I feel a little pressure but I've learned that the only pressure I have is the pressure I put on myself. My parent's just want me to do my best and don't put extra pressure on me to perform well. I think they know if I perform to the best of my ability then I will be just fine.
What were some of the positives, you think, that came from having that background and having parents who were really smart and experienced and successful?
Some of the positives were, like I said before, that I always had coaches who knew what they were doing. They knew all the little things it took to be successful and they fed that to us as kids. They would always talk about how the little things add up and they taught us to be very disciplined when it came to taking care of our bodies.
Negatives?
Although it was nice having parents as coaches it definitely had a few downsides. One being it wasn't always about you. Your parents/ coach had other athletes to worry about besides you, so it seemed like they weren't giving you as much attention as the other athletes at practice even though they are your parents. Also if there was a conflict in practice there was no escaping it when you went home. Most athletes, when they get in a fight with their coaches, they can just brush it off and go home but that's not the case when your parent is the coach.
Growing up (middle school and high school), what are some of your favorite running memories?
It was always fun running with the team, watching everyone get better every year, but from middle school I have a couple memories I really enjoyed. The first was a little bet we made with our coach. I was in 6th grade and we were going to a race in Buena Vista and the 8th graders ,which included my older brother Isaiah and the rest of the boys team bet our coach, Coach Lavier, that if we perfect scored this meet we can play in the river after the race. He agreed to those conditions and the bet was on. In middle school it was a 'score 4-run 7' so we only had to go 1-4 – unlike high school. Isaiah and Miggy took off like they had been doing all year and three of us, Caleb, Oscar, and myself were following behind. Long story short, we perfect scored through 4. Isaiah won, Miggy was second, Palmer was third, Oscar was fourth, and I finished sixth – one kid caught me.
It was awesome to be a part of and during the awards, very few people knew what happened. They were just like " Wow another Alamosa kid." We knew what we had just done and it was cool but honestly we just wanted to play in the river. In the same year, we went to the middle school state and we were definitely the underdogs (being one of the smallest schools in the race), but we ran hard that day. But (we) ended up a little short and got second as a team. We were really happy with that because the other middle schools fed into a bunch of different high schools, meaning they were combined with multiple schools, unlike us. We only have one high school to feed into. This foreshadowed that we definitely were going to be a force to be reckoned with in high school.
In high school my favorite memory was probably my whole sophomore XC season. We had the same middle school team with few add-ons and we were dominant all season. We were definitely one of the best teams in all divisions in Colorado. It was fun training with that group, going to meets, and seeing all the hard work pay off. We ended up winning state for the third year in a row and it was an amazing feeling.
You had a great high school career – what do you consider to be your best accomplishment or race?
First off, I wouldn't say I had a great high school career, but a decent one for sure. My best accomplishment and race I would have to say was my senior year (at) State Cross Country. They put out some rankings the week before state and they had me ranked like 18th place. I knew for sure I was way better than that, but I didn't run any fast courses so my times weren't as quick as everyone else's. Either way I was ready to go prove myself. I went out the first mile relaxed because from past experience I knew everyone goes out quick and dies the second mile on the hills. I was probably 16th at the mile but as soon as the mile hit I started rolling. I pushed hard the second mile on the hills and was running kids down left and right. My brother and my old teammate Miguel were standing just before the two mile mark which is on a hill and I was in 6th at that time and as I got closer to them I heard my brother scream, "Second is yours." I thought "Bro what? I'm in 6th place and everyone has way faster times than me – no way I can catch them," but just 5 seconds later when I got to the top of the hill I saw 2nd, 3rd, and 4th, strung out in front of me all within 150 meters or so. 5th place was only a step ahead. When I saw that I got chills and started pushing hard. Within the next 400 meters I was in second place. I couldn't believe it. I was feeling good too. However, unfortunately within the last 400 meters I was pretty spent from making a big move. Two kids passed me and I finished 4th. I was still very happy with that. I would've been happy with just a 10th place finish; that was the goal. After the race, a kid who finished 20th came up to me and asked how I finished. I told him 4th. He smiled and said "I knew it. They had you ranked like 18th coming into the meet and I said 'naaa you can't count out DeLaCerda.'"
Who was the hardest person to compete against in high school?
My senior year, a kid from Salida – who was also a senior – and I had a bunch of battles the whole season. He would always take it out hard and I would catch him usually around two miles and he would just stick to me like glue. We would duke it out the last mile and he would usually get me at the end. I think we raced 4 times and I beat him once. I beat him the last time we raced against each other at the NXR Southwest meet. It was a sprint finish and I outkicked him. That was probably the hardest I've ever kicked in a race. (Editors note: that runner is Camden Gillis, who now runs for Colorado Mines. Indeed, Elijah outkicked him at the 2018 NXR Southwest meet, running 15.54.5 to Camden's 15:55.4. I wonder if this rivalry will continue in the RMAC?!)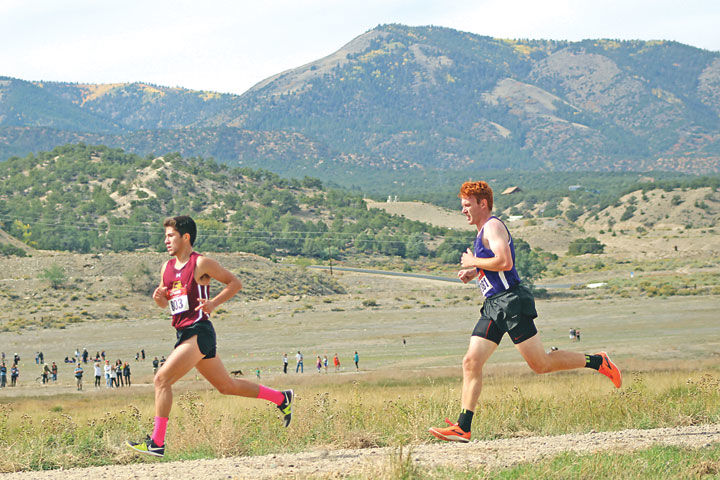 Who was the toughest runner you ever trained with at Alamosa? Why?
My team right now at Adams State has a bunch of tough runners. We are definitely going to turn some heads this year because we are being overlooked big time. We have a young group of kids that have not been seen yet so we are lurking in the shadows waiting for our time to strike. Growing up, however, I always had two training partners and they were definitely the toughest runners I've ever trained with: my dad, Peter, and my brother, Isaiah.
My dad loved running so when he raised us he wanted to share that with us and the way he did that was coaching and running with us. He would tell us the workout and then hop in the workout and push pace. In high school at the NXR meet he would run the citizen race and from my 7th grade year to my senior he would beat almost our whole team. He could keep up with me in workouts during my whole high school career even to this day he could still hang for some of it. Then my brother was just a grinder. He and I have run countless miles together and still to this day run some together. He would absolutely kill workouts and I would just hang on for as long as I could. His senior year at Cole park we did an all out mile and he was first and came across 4:13 which was insane and he did it solo.
Who is a runner you look up to and why?
Jakob Ingebrigtsen and Lopez Lomong. here are probably others that I look up to but these are the first two that come to mind. I say Jakob because he is my age and he is one of the best in the world. That is really insane and makes me realize just because I'm young doesn't mean I can't do something great. Then Lopez I read his book and heard about all the challenges he went through growing up inspired me a lot. It reminded me of a quote my current coach , Coach Martin says "Champions don't get the best of everything, they make the best of everything" and really gives me no excuse not to become something great.
So, you ended up at ASU – what were the main things that influenced you in making that decision?
Out of high school, my times were not quick at all, especially in track. I would wrestle in the winter so I never had any base training and when I was done with wrestling I would gain about 20 pounds and spend the next 2 weeks shedding off the weight. By the time the end of track came I would barely be getting into shape. So my times were not good enough to go D1 anywhere. So, that left me to go D2. I looked at other schools that had good running programs but never really reached out to any coaches because I thought "man, none of these guys would even reply to me." When it was time to make a decision I had two schools I was going to try to walk on to: Adams State and Western. I really wanted a change of scenery, but I really liked Coach Martin and everything he has done with the program.When I was little I would see pictures of my parents wearing the Adams State jersey and always dreamed of wearing one and winning national titles.
Also, I grew up hearing the stories when Coach Vigil was the coach and wanted to be a part of that awesome program.
Talk about your first season – what were some highs and lows?
My first season was definitely a rough one. It had some highs but more lows than anything. XC was my hardest season physically and mentally. I was doing ok in workouts but was struggling a little bit. I struggled the most at meets. Every race during the XC season I never felt good. I was always tired and never felt ready to race. I've never thought about walking in a race until that season and that messed with me mentally. I had no clue why I never felt good when it came to race. I talked to the coach about it and he told me that was ok, that meant I was training hard and that was why I was red-shirting – so I could get a hang of things and be ready in the future. He assured me that this would pass and I would be racing good in no time. He was right. I took some time off in December and then got ready for indoor track. I was training hard all winter break which was something I had never gotten to do before. During training, I was up in the front on workouts and felt great. I'm not sure if I ever felt bad in a workout. Then, when it came time for my first race, I was ready. I only raced the mile but I PR'd by 3 seconds. I was happy with that because I had no speed work under my legs, so I knew I had a lot more to improve. A few weeks later I went to Pitt State in Kansas and ran a 5k. There, I had the most fun I've ever had in a race before. It was on a 300m track in a big facility with all kinds of people there. My teammates were on the infield and cheered for me every lap and they were loud. That kept me rolling at the way to the line where I was third in my heat and ran a 14:58. My previous pr was 15:54 – so it was a huge PR. After that, I was excited to get back to training and keep improving. Unfortunately the outdoor season was cancelled, but overall I gained a lot from my first year and look to continue to grow.
How is training going – what is your mileage up to nowadays?
My training is going really good. It is way better than last XC season.
What are your goals for this season?
This season my goal is definitely to try and make the RMAC team. At RMAC, I would like to help the team out and score for the team. I just got word that they are putting on an unofficial nationals meet so that is a new goal I am striving for. On the track, if we have a national meet, I definitely want to be on the bus going to nats. I want to take another 50 seconds off my 5k pr again like I did last year and lower my mile time as well. Another goal is I want to become a more confident runner as well. I have always doubted my ability in competition and that's something I want to work on.